Federal Court Issues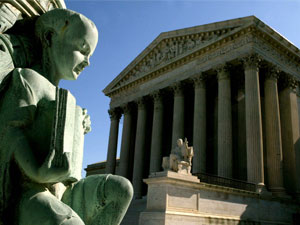 Federal courts are an essential part of America's system of checks and balances. Under our Founders' design, in the U.S. Constitution, courts must put the nation's law above all else--special interests, politics, and even current public opinion.
But federal courts have become mired in competing partisan agendas:
Supreme Court recusal. Calls for recusal have been widespread in the wake of the highly contentious case involving federal health care law.



Impeachment & Other Threats

. Judges who make controversial decisions have been threatened both by liberals and conservatives.



Court-stripping Legislation

. Congress has sought to take certain disputes off the table, by denying courts the jurisdiction to consider specific hot-button issues.



Judicial Nominations

increasingly are embattled along political lines.



Immigration

. With crushing numbers of cases and inadequate resources, immigration courts have been described as "traffic court volume with Supreme Court consequences." Justice at Stake advocates reforms to ensure that basic due process is assured to those whose lives may depend on a fair hearing.



Civil Liberties and National Security

. The role of courts in protecting individual rights has been undermined.



Diversity on the Bench

. As with state courts, women and minorities remain underrepresented on the federal bench.




To learn more, click on specific issues, or visit Federal Issues Resources. To learn about America's different court systems, see America's Courts: A Primer.